September 5, 2023
National Recovery Month
New Season Treatment Center Celebrates National Recovery Month in September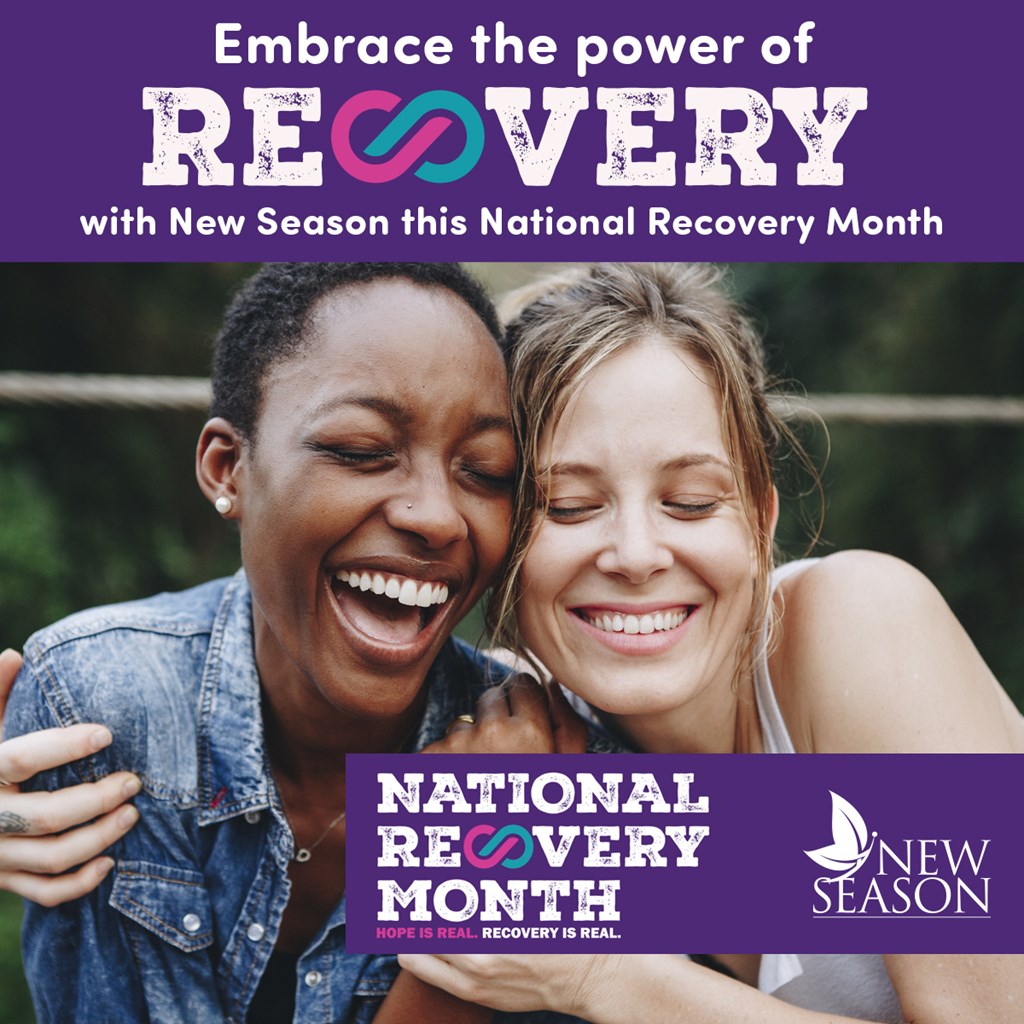 September is a month of renewed hope, growth and celebration as we honor National Recovery Month. At New Season Treatment Center, we're dedicated to fostering a supportive environment that empowers individuals on their journey towards wellness and recovery.
"National Recovery Month is a reminder of the strength that resides within each individual overcoming addiction, and the team of people helping them achieve it. This month recognizes the power of compassion and community in reducing the stigma to get people the help they so desperately need," Jessica Matthews, the organization's senior vice president of operations, said.
Connecting Virtually, Healing Personally: Telehealth Services
In our commitment to accessible care, we're thrilled to offer telehealth services at select New Season treatment centers – compassionate counseling brought right to our patients' homes via smartphones, tablets or desktop computers. Recovery support is just a click away, ensuring that our patients receive the dedicated care they deserve, anytime, anywhere.
"Our telehealth treatment embodies our commitment to innovation and accessibility, ensuring that support is always within reach," Krystal James, a telehealth clinical supervisor at the Augusta Treatment Center, said.
Events that Celebrate Progress and Unity
Throughout September, we're hosting a series of events that bring communities together and shed light on the importance of recovery.
Join us for open houses in Hickory, N.C., on Sept. 14, Sarasota, Fla., on Sept. 21, and Fort Mill, S.C., on Sept. 27. These events offer tours and presentations for government officials, first responders, healthcare professionals and the community, showcasing the important services New Season provides to their local areas.
Additionally, we invite everyone to the ribbon-cutting ceremony for our new treatment center in Palm Coast, Fla., on Sept. 19. Your presence will magnify the positivity of this occasion. R.S.V.P. today!
"The community events are a testament to our dedication to collaboration and education, fostering partnerships that uplift our communities," Mike Garone, the senior vice president of business development and marketing for New Season, said.
United in Celebration
In Central New Mexico, our team is excited to participate in the Recovery Car Show on Sept. 16, a vibrant celebration of recovery progress.
Our New Season team members will also attend the 13th annual Utah Recovery Day and the Citrus County Recovery Fest in Inverness, Fla., both events to be held Sept. 21. These events amplify the sense of unity and community that recovery brings to countless lives.
"Join us as we stand united in celebration, growth and the pursuit of wellness. Together, we light the path toward brighter tomorrows," Amy Magras, the regional director for New Season's west coast operations, said.
Learning and Growing Together
Our training team is excited to host two virtual courses on the Harm Reduction Model. These sessions, offered for both Alabama and Georgia-based addiction counselors, provide two free CEUs for attendees. Check our Community & Learning Events calendar for more upcoming sessions across the country!
"It's a wonderful opportunity to expand knowledge and enhance support across the community of healthcare workers," Vanessa Gomez, the director of training and development at New Season, said.
A Message of Unity and Triumph
As we embrace the spirit of National Recovery Month, let's remember that every step forward is a triumph worth celebrating. The journey to recovery is marked by courage, resilience and the support of communities.
Let's celebrate recovery, growth and unity this National Recovery Month – because together, we're unstoppable.