August 28, 2023
Communities
New Season Treatment Center Expands Reach with Two New Clinics in Florida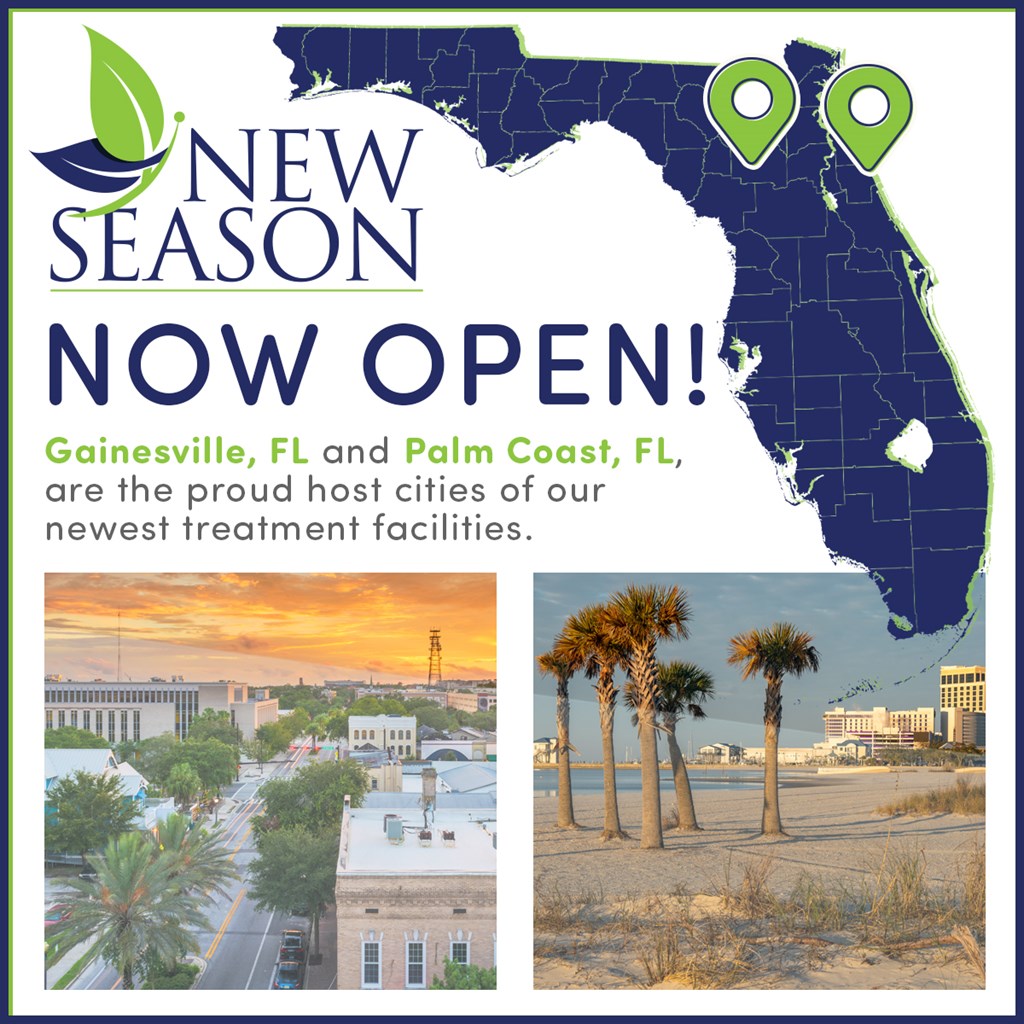 ORLANDO, Fla. (Aug. 28, 2023) – New Season Treatment Center ("NSTC"), a leading provider of opioid addiction treatment services, proudly announces the opening of two new centers in Florida. This milestone not only reinforces New Season's commitment to addressing the pressing need for comprehensive treatment options for those grappling with opioid use disorder, but also signifies a significant step towards battling the opioid epidemic.
"With these new healthcare centers, New Season now operates more than 30 locations serving over 11,000 patients in Florida and nearly 90 centers across the nation, marking a substantial stride in the fight against opioid addiction," Amanda Hudak, the senior vice president of the organization's Florida-based operations, said.
The new treatment facilities are strategically located in Gainesville and Palm Coast, and are poised to make a profound difference in the lives of individuals struggling with opioid use disorder. These centers will offer high-quality care, evidence-based treatments and a compassionate approach to support patients on their journey to recovery.
"With the opening of the New Season Treatment Center in Gainesville, our team can support and provide hope to individuals during this brave and often difficult journey," Brandylyn Boone, program director of the Gainesville facility, said.
"Each one of our team members here in Gainesville is dedicated to working toward a positive impact in the fight against the opioid epidemic. It is an honor and privilege to be able to walk this path and provide service to our local community," Boone continued.
Catherine Watson, a counselor at the New Season Treatment Center in Gainesville, spoke about the urgent need for quality addiction treatment. "As Gainesville residents, the staff and clinicians of our new treatment center have witnessed the grip opioid addiction has claimed on our community. Opioid addiction does not discriminate. It can impact any one of us, our families, our friends," she said.
"There is an acute need for a high-quality opioid addiction center in our area, with the primary focus being on harm reduction. Instead of simply standing by and watching this disease wreak havoc on the lives of so many individuals and families within our wonderful Gator nation, we can now offer a solution, a chance to get their lives back. We are here to help facilitate this move toward hope," Watson continued.
The new center in Palm Coast, a 77-mile drive east of the Gainesville center, will fill an equally critical role on the Florida coast.
"Our new center in Palm Coast is more than just a treatment center; it's a beacon of hope for individuals seeking to overcome opioid addiction. We are dedicated to providing comprehensive care and support to help our patients achieve lasting recovery," Rebecca Feather, the program director in Palm Coast said, expressing her enthusiasm about the impact the new center will have in the community.
Matthew Ruffner, the regional director of Florida-based operations for New Season Treatment Center, highlighted the organization's commitment to making a difference. "Our expansion in Florida marks a significant milestone in our ongoing mission to provide accessible and effective opioid addiction treatment to those who need it most. We are deeply committed to reducing the stigma surrounding addiction and offering a path towards recovery."
To celebrate the opening of both the Gainesville and Palm Coast centers, each location will host a ribbon-cutting ceremony. NSTC Palm Coast will host a ribbon cutting Sept. 19; NSTC Gainesville will host a ribbon cutting October 3. The community is invited to join New Season Treatment Center in celebrating this important step forward in addressing opioid addiction and promoting a healthier, happier community.
For more information about New Season Treatment Center and its services, visit www.newseason.com. For more information about the ribbon-cutting ceremonies, please contact the NSTC Community Relations team at community.relations@cmglp.com.
About New Season Treatment Center
New Season Treatment Center is a leading provider of outpatient treatment and recovery services for individuals struggling with opioid addiction. With a mission to improve the lives of those affected by Opioid Use Disorder, New Season Treatment Center combines medication-assisted treatment with counseling and support services to create personalized recovery plans for each patient. The organization is committed to making treatment accessible and effective, promoting lasting recovery and overall well-being.
Media Contact
Kristen McCullough
KAMCOM Media
Kristen@KAMCOMMedia.com
www.KAMCOMMedia.com