July 31, 2023
Communities
New Season Treatment Center Expands Access to Opioid Addiction Treatment in Port Charlotte, FL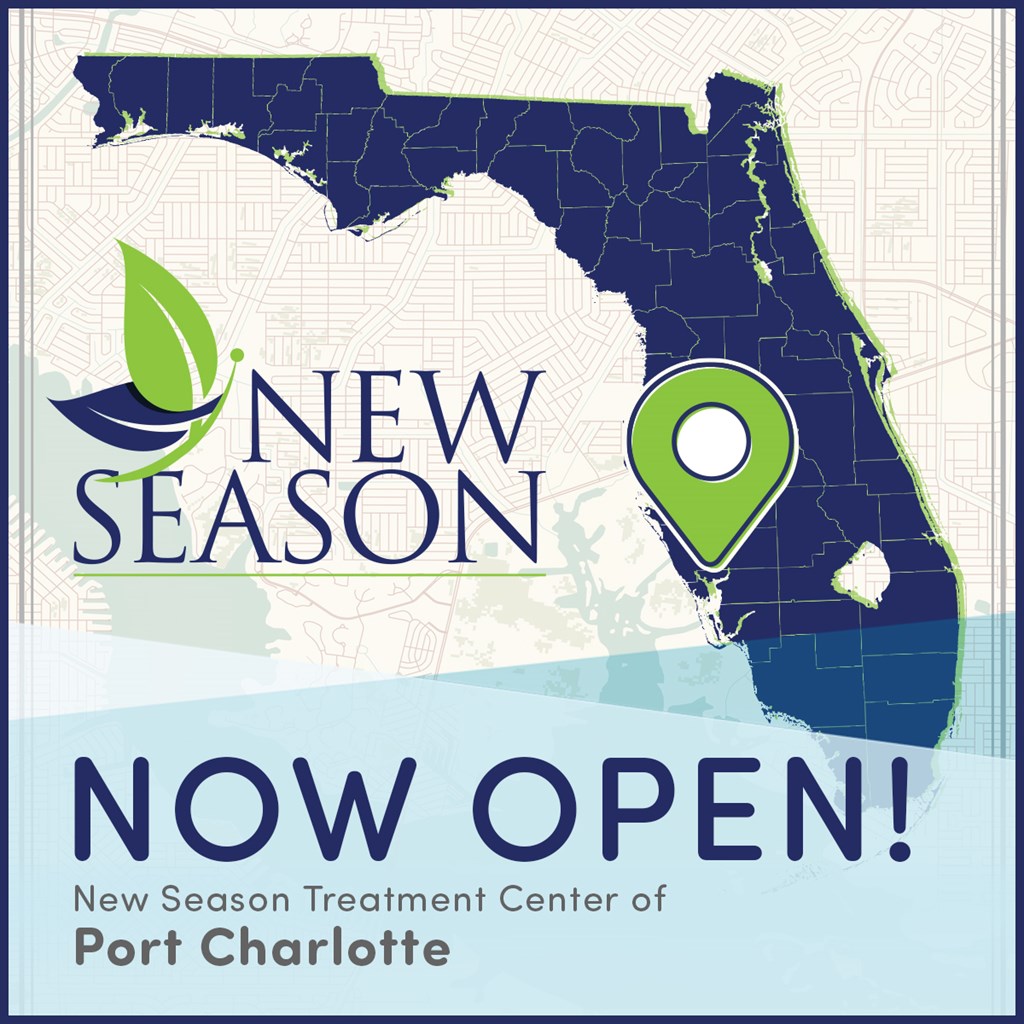 Port Charlotte, FL (July 31, 2023) – New Season Treatment Center, a leading provider of opioid addiction treatment and recovery services, is pleased to announce the grand opening of its newest facility in Port Charlotte, Fla. The state-of-the-art center will officially begin accepting new patients today, providing much-needed treatment options to those struggling with Opioid Use Disorder in Port Charlotte and surrounding areas, including Lake Suzy, Murdock, Charlotte Harbor and Harbour Heights.
The grand opening celebration will be marked with a ribbon-cutting ceremony on August 22, 2023, from 11:30 a.m. to 1:30 p.m. The event will take place at the new center's location, and all first responders, government officials, community leaders, and interested patients are warmly invited to attend. R.S.V.P. today!
Amanda Hudak, vice president of Florida-based operations, expressed her excitement about the expansion, stating, "We are elated to bring another treatment center to the community and to be an active partner around treatment related to Opioid Use Disorder."
"Our treatment approach will assist individuals on their recovery journey and will positively impact the community at large. We look forward to continued growth and partnership within the community and are honored to be able to expand our treatment approach to this community."
Beth Keaser, program director for the new center, shares her enthusiasm for the endeavor, saying, "At New Season Treatment Center, we are dedicated to providing comprehensive care to each patient. Our team of treatment specialists, including doctors, nurses and counselors, is committed to assisting patients on their path to recovery. We understand the challenges faced by those with opioid addiction, and we are determined to make a positive difference in their lives."
New Season Treatment Center offers a range of vital services as part of its opioid addiction treatment plan, all covered under one affordable low fee.
New Season Treatment Center is committed to serving the Port Charlotte community with the highest standard of care, professionalism and compassion. The team believes that by addressing opioid addiction at its root, they can positively impact the lives of individuals and their families, contributing to the overall well-being of the community.
For more information about New Season Treatment Center's services and the upcoming ribbon-cutting ceremony, please contact our Community Relations team at newseason@cmglp.com.
About New Season Treatment Center
New Season Treatment Center is a leading provider of outpatient treatment and recovery services for individuals struggling with opioid addiction. With a mission to improve the lives of those affected by Opioid Use Disorder, New Season Treatment Center combines medication-assisted treatment with counseling and support services to create personalized recovery plans for each patient. The organization is committed to making treatment accessible and effective, promoting lasting recovery and overall well-being.
Media Contact
Kristen McCullough
KAMCOM Media
Kristen@KAMCOMMedia.com
www.KAMCOMMedia.com