May 14, 2018
Communities
Grassroots Efforts Help Maintain New Season's Prominence as the Leading Methadone Clinic Nationwide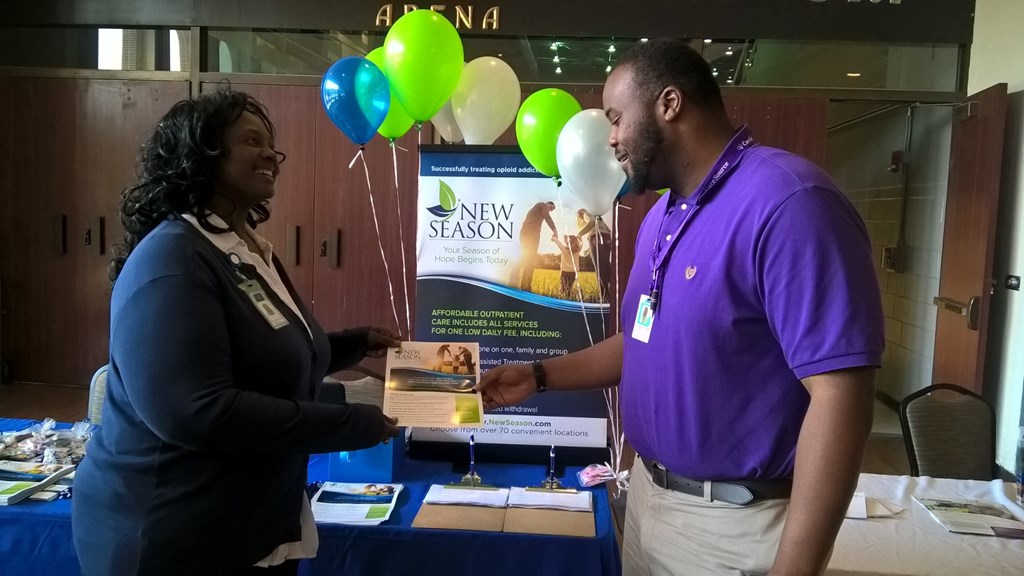 People addicted to prescription pain medication and heroin do not always seek out treatment; sometimes the treatment has to be brought to their attention. That's why teams of New Season employees across the U.S. get out into their communities, educating the public about the effectiveness of methadone treatment to remedy opioid abuse disease.
In the recent weeks, clinicians and support staff from New Season have participated in four groundbreaking events that have educated and informed their communities in a hands-on and practical effort.
Read on for detailed information and key takeaways from each engagement.
Hepatitis Awareness Event in Orlando, Fla.
New Season hosted a hepatitis awareness event May 11 at the Orlando Methadone Treatment Center in recognition of Hepatitis Awareness Month. Nurses specialized in the disease state from the Florida Department of Health were on-site to administer complimentary hepatitis C tests and cost-free vaccinations.
Clinicians and staff members from the Orlando-based New Season methadone clinic were on hand to educate their patients and the community about hepatitis, a disease that causes inflammation of the liver. Toxins, certain drugs, heavy alcohol use, bacterial and viral infections can all cause hepatitis. Many forms of hepatitis are preventable and can be treated if detected early.
"While many intravenous drug users are well aware of the risks involved with sharing needles, many may not be aware of the risks involved with sharing equipment. Other conditions, such as alcohol addiction and mental illness, also appear in high numbers among people who engage in injection drug use," David Cartagena, the program director of the New Season methadone clinic in Orlando, Fla., said.
More than 60 percent of all new cases of Hepatitis C infection result from injection drug use. Infection occurs within six to 12 months of the initial injection in the majority of cases.
"We wanted to share this information with our patients and their families to create awareness and to promote safety," Cartagena said.
The Orlando-based New Season team that treats more than 1,170 patients "provided guidance on how to get treatment and offer support to those who are suffering from this condition," Cartagena said.
While the primary service that New Season provides is methadone treatment, the total force is dedicated to treating the many other facets that affect opioid use disorder victims.
[sep]
U.S. Military Civil Affairs Exercise in Savannah, Ga.
The Savannah, Georgia-based methadone clinic at New Season joined forces with the U.S. military and St. Joseph's/Candler Health System May 10 to participate in Operation Empower Health in Savannah, Ga. The military-led exercise provided no-cost healthcare treatment to the community attendees, including medical, dental, vision and veterinary services in four key locations throughout the region.
"The majority of people in Chatham County and the surrounding counties have gainful employment, but some of the employed have poor health insurance with high deductibles or no insurance at all, leaving families to sacrifice their personal health with undiagnosed medical problems. This event allowed many members of our community to have their medical concerns addressed at a one-stop shop," said Crystal Malloy, the program director for the New Season methadone clinic in Savannah, Ga.
New Season deployed clinicians and staffers to support the event on various days throughout the exercise. The full exercise occurred May 10-18 in four locations: Savannah Civic Center, 301 W. Oglethorpe Avenue; Georgia Southern University – Armstrong Campus, University Hall, 11935 Abercorn Street; Garden City Recreational Department, 160 Priscilla D. Thomas Road; Savannah State University, Social Sciences Building, 3219 College Street.
"We understand that mental health and substance abuse are highly correlated," Malloy said. "Our participation in this event provided education and awareness to the stigma of addiction in society. We also screened interested participants for mental health concerns, substance abuse and addiction needs."
The healthcare fair, an effort sponsored by the Department of Defense's Innovative Readiness Training, also offered uniformed personnel real-life deployment training by addressing civil-society needs.
"New Season is proud to serve alongside the U.S. military and prominent medical systems and universities in the area to become a staple resource in our community," Malloy said.
The partnership is important now more than ever as opioid drug abuse has killed more Americans than the Iraq, Afghanistan and Vietnam wars combined.
[sep]
Mental Health and Addiction Awareness Fiesta in San Antonio, Texas
During National Mental Health Month, both of the San Antonio, Texas-based New Season teams participated in the Mental Health and Addiction Awareness Fiesta May 5. The event educated individuals in the community about mental health, addiction and recovery issues.
The New Season representatives made key relationships at the event with local elected officials, mental health experts and treatment professionals in order to maintain their prominence as the leading methadone clinic in opioid use disorder treatment and recovery.
"We are all very excited about these new connections we've made and the opportunities that lie ahead," Cynthia Luna, regional director of the New Season Treatment Centers in the Gulf Region, said.
New Season was one of approximately 40 vendors who exhibited at the event. The other exhibitors included insurance companies, health and wellness groups, addiction treatment centers and mental health treatment organizations.
The event was hosted by the San Antonio College Human Services Addiction Counseling Program in conjunction with the Bexar County Felony Drug Court. The symposium was also sponsored by the Volunteer Services Council of the San Antonio State Hospital, a non-profit organization that covers rehabilitation and therapeutic services to enhance the wellbeing of individuals being treated at the hospital.
[sep]
National Prescription Drug Take Back Day in Meridian, Miss.
New Season teammates from the Meridian Treatment Center in Mississippi participated in National Drug Take Back Day April 28 at the Bonita Lakes Mall.
"Our Meridian team is building some great alliances and strong networks. We will continue to become more involved in our community," Cynthia Luna, regional director of the New Season Treatment Centers in the Gulf Region, said.
To show support of the law enforcement personnel who volunteered to run the event, Meridian-based New Season employees provided goody bags to the officers that included a water bottle, snack bar, baked chips and an apple.
"The officers were very appreciative of our goody bags," Luna said. "I am very proud of how quickly our team came together and pulled this off.  They did a great job!"
[sep]
New Season understands that treating patients with opioid use disorder takes much more than administering methadone to maintain the recovery process. New Season clinicians and staffers take an active role in their past, present and future patients' lives to ensure they are given the best chance at addiction recovery.